Business
Armenian President Ratifies Country's ICC Membership Despite Russian Warnings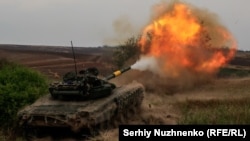 Ukraine has accused Russian forces of using phosphorus during their current assault on Avdiyivka in the eastern region of Donetsk, where heavy fighting has been reported over the past three days as Moscow attempts to break through the town located just north of Donetsk city.
"Avdiyivka. Our land, a Ukrainian city. The Russians threw a lot of manpower in this direction. They use phosphorus, along with their cannon fodder [troops]," Andriy Yermak, the head of Ukraine's presidential administration, said on Telegram.
Live Briefing: Russia's Invasion Of Ukraine
RFE/RL's Live Briefing gives you all of the latest developments on Russia's full-scale invasion, Kyiv's counteroffensive, Western military aid, global reaction, and the plight of civilians. For all of RFE/RL's coverage of the war in Ukraine, click here.
It was not immediately clear whether Yermak was referring to white phosphorus munitions, which are not banned under international law but whose use is strictly regulated as the chemical can cause deep burns. The treatment of wounds caused by white phosphorus is very difficult in battlefield conditions.
The assault on Avdiyivka, seen as the largest Russian attack in the east since the start of Ukraine's counteroffensive several months ago, has reportedly involved some 2,000 troops, numerous armored vehicles, and air support.
In a message on Telegram, President Volodymyr Zelenskiy commended the defenders of Avdiyivka, where Ukrainian forces repelled 20 attacks in 24 hours, according to the General Staff on October 13.
"I am grateful to every soldier, every unit for their resilience," Zelenskiy wrote.
Ukrainian forces fought a total of 64 close-quarter battles as they continued their incremental advance in the Bakhmut area of Donetsk and in the southern direction of Melitopol, the military said.
A total of 68 combat clashes took place at the front on October 13, the General Staff said in its evening assessment. Enemy attacks and shelling were reported in the areas near Kupyansk in the Kharkiv region. Ukrainian forces also successfully repelled about 10 enemy attacks in the Maryinka area of the Donetsk region.
The General Staff also reported the downing of a Russian fighter jet and an Orlan-10 drone. There was no comment from the Russian Defense Ministry.
One person died and up to 24 were injured in a Russian attack on the city of Pokrovsk early on October 13, the Donetsk regional prosecutor's office said.
The Interior Ministry said nine employees of the Department of Social Protection of the Population and two female visitors were among the injured. Government buildings, two medical facilities, and two apartment buildings were destroyed, the ministry added.
Pokrovsk is located in the western part of the Donetsk region several kilometers from the front line.
Russia has also stepped up its shelling of Kherson, striking the southern Ukrainian region 100 times in 24 hours, killing civilians and causing widespread damage, a regional official said on October 13.
Kherson Governor Oleksandr Prokudin said Russian forces used artillery, mortars, Grad missiles, tanks, and drones to pound the region and its capital, Kherson city, which was shelled 49 times.
"Two people were killed and six more were wounded, one of them a child," Prokudin said, adding that education facilities, houses, apartment blocks, a medical institution, and an industrial platform in Kherson's Beryslav district were destroyed in the strikes.
A Russian drone later on October 13 struck a car in Beryslav, wounding a man and killing his wife, Prokudin said.
Kherson, which was partially liberated by Ukrainian troops one year ago, has been constantly targeted by Russian shelling from across the Dnieper River.
With reporting by Reuters and AFP